Thank you for supporting our conservation-minded research. If you would like a US tax receipt, please:
To our Canadian friends and neighbours, please consider making a donation to our sister organization, Oceans Research & Conservation Association for a Canadian tax receipt.
Please help us keep orca habitat clean, quiet, and full of fish. Through November 2018, all donations will go toward our southern resident killer whale conservation campaign, unless you tell us otherwise.
You love the ocean, we love the ocean. Let's save it together. Here's how you can help.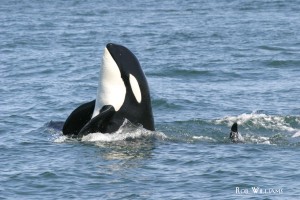 Oceans Initiative relies on your donations to do the ocean conservation work that we do. We are an efficient, agile team that makes the most of every contribution. Oceans Initiative is a Seattle-based 501c3 nonprofit that does work throughout the Pacific Northwest and internationally. We do our conservation science without a big administrative team.  We keep our overhead costs low, so more of your donations go directly to support our work and our leadership spends more time on the mission. This philosophy extends to our partnerships. We value collaborations with universities and other nonprofits, but our policy is not to pay indirect costs on subawards made from your charitable donations.
Looking for other ways to help?
Leave a comment on our blog, subscribe to our newsletter, like us on Facebook, follow us on Twitter, Pinterest or Instagram. We love hearing from you. Please spread the word about the work we do, and know that your involvement makes a difference.
Thank you very much for your support!
PS We'd like to welcome our recent supporters from Fidelity Charitable's Donor Advised Funds. Click here to donate directly from DAF Direct.