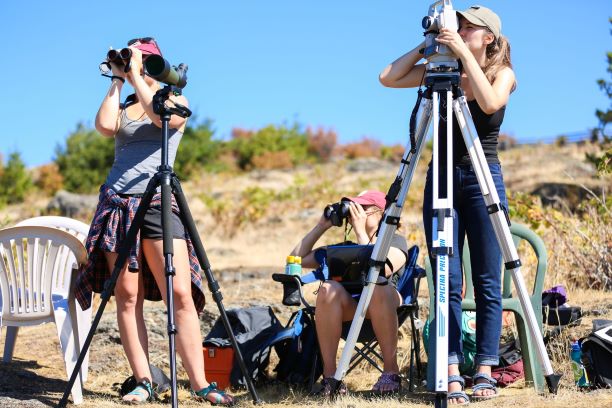 UPDATE (March 05, 2020): Thank you to everyone who has submitted an application. We were truly impressed by both the number (almost 200!) and quality of applicants. Due to our organization's small size and the sheer number of applicants, we had to interview people on a rolling basis and are currently in the the final stages of the interview process. Thank you again for your time and interest in working with Oceans Initiative and please keep an eye on our social media channels for information on upcoming projects and job openings in Canada and the US.
Four PAID Field Technician Positions Available: Southern Resident Killer Whale (SRKW) Research, Summer 2020. 

June 25 – September 4, 2020 (1 month minimum; start/end dates flexible; preference given to applicants available for the entire period), with a possibility of extending fieldwork through September. 

Oceans Initiative is a team of scientists on a mission to protect marine wildlife. Our US team is based out of Seattle, WA. We are currently recruiting 4 highly motivated field technicians to collect behavioral and AIS data on killer whales and vessels from land-based study sites on San Juan Island for our summer 2020 field season. Experience with theodolite tracking of cetaceans, and SRKW identification skills, are highly valued. Must be able to work independently and as part of a close-knit team where a positive attitude is essential. Applicants with substantial experience in theodolite tracking, project leadership, and project management may be considered for a coordinator role. Applicants must be eligible to work legally in the U.S. for the duration of the employment period. 

The primary goal of this project is to measure the effectiveness of recent efforts to reduce impacts of vessel noise and disturbance on foraging of SRKWs. Data collection involves: recording behavioral observations of SRKW activity in Haro Strait, theodolite tracking of vessel and whale movement, storing and processing AIS data, and documenting small vessel presence and activity within 1000m of the whales. 

Qualification requirements: Student or recent graduate of a biology/marine biology, marine science, oceanography, zoology or related program, or related experience. Excellent communication skills. Experience working as a naturalist on a whale watching boat in the Salish Sea would be helpful. Genuine interest in killer whale behavior, and conservation. Valid driver's license and clean driving record. Must be able to collect data on uneven terrain, in variable weather conditions (4-37C, 40F-100F, rain, humidity and biting insects). Knowledge of digital SLR cameras and lenses an asset. Familiarity with data storage and management processes. Ability to work on-call, dawn-dusk, for multi-week shifts with scheduled days off. 

Duties include: staying current on location of SRKW through frequent monitoring of sightings network, high-quality data collection, data management, meticulous note-taking, providing daily communication with executive team via Slack, maintenance of field equipment, and some content creation for social media posts.  

Preferred applicants will be available for the entire 2 month period, with the potential of extending into September. Those with first hand marine mammal observing experience and/or experience working on whale-watch vessels in the San Juans, are especially encouraged to apply. If you have experience with theodolite tracking of cetaceans, please mention this clearly in your cover letter, and mention the software you have used to track cetaceans.

This position is PAID (remuneration dependent upon qualifications and experience) and housing on San Juan Island will be provided. While technicians will have to provide their own food and transportation to and around the island, one round-trip ferry ticket will be provided–any additional trips off-island must be covered by the individual. 

Interested applicants must send a cover letter, CV and dates of availability to team@oceansinitiatve.org before April 3rd, 2020 to be considered. Applicant must be authorized to work in the US as we cannot sponsor overseas visas. Preference will be given to applicants who can stay through the entire project. Application review will begin immediately. More information about Oceans Initiative can be found at www.oceansinitiative.org  or by contacting us directly at team@oceansinitiative.org. 

Thank you,
Erin Ashe, PhD
Rob Williams, PhD
Laura Bogaard, BASc
PS: We have seen this ad shared to other sites, where it has been described as a paid internship. This is well suited for an early career researcher, or a naturalist wishing to gain experience in science, but our team is unable to provide the one-on-one mentorship we would normally expect in a paid internship. We are looking for people who are ready to work as paid field technicians. These are short-term, contract positions to carry out specific tasks. They are not intended to become full-time salaried positions, or to support data collection for your graduate degree.